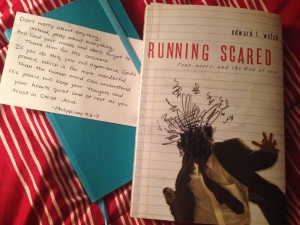 If you're looking for a good book on anxiety (besides the Bible), I would highly recommend Edward T. Welch's book, Running Scared: Fear, Worry, and the God of Rest. I'm reading through it for about the third time now and always come away encouraged, challenged, and more knowledgeable about my own fears and worries and how to find peace in God.
Some points that stood out to me from chapter 2, which focuses on external symptoms of fear/anxiety:
Physical Clues:
"We can distract ourselves mentally from our anxieties, but our bodies can stay focused on them even when our minds aren't. Our bodies are always scanning our inner emotional terrain. At the first hint of a threat, our bodies are mobilized: palpitations, sweaty palms, perspiration, tension headaches, clenched jaws, impotence, rapid breathing, loss of appetite, increased appetite, problems sleeping, high blood pressure. Our bodies can tell us we're anxious even before we are aware of it."
This point is interesting to me because sometimes I do just feel anxious. Even before I know what I'm anxious about, I have noticed that I will often get physical symptoms. They are a clue that I need to consider what it is that I am trying to control and then turn to the Lord in trust and faith. The physical symptoms are not enjoyable and sometimes don't go away for a while. Saturating my mind with Scripture and praying to God, my present help, will eventually result in physical peace, too.
Stress:
"Stress usually means that there is too much to do in too little time, or the things we have to do are beyond our competencies… If you listen a little more closely, you will probably detect the theme of control. Stress is saying that life is teetering on the brink, right at the farthest reaches of your ability to maintain some control. What would happen if you really lost control? You don't know, and you don't want to know."
The section on stress intrigues me because stress is so accepted in our culture. It's "normal" to be stressed. But isn't stress a result of the realization that our desire to be in control is impossible? I want control and yet there's "too much to do." I see my circumstance and compare it to my own strength alone, and see that I cannot do it. The opposite of stress, then, is trusting the Lord, who is in sovereign control of all things. It's not about my strength. He will give me the strength I need to complete the tasks to which He calls me.
"Stress can also signify that there is something on your to-do list that will be inspected by others… If you listen to this type of stress it whispers, 'Life is risky. Your most treasured dreams rise or fall on your performance.' Is failure really that bad? If someone doesn't think you are great, will life rip apart at the seams?"
Wow. That stress could actually be a sign that I am enslaved by what others think of me. Wouldn't it be wonderful to be free from all stress? Now, of course, living in a sinful world, there is a lot of stress that presses on us daily. But identifying the root causes–either that I am trying to work in my own strength or that I am concerned too much about what others think–can help alleviate the stress. When the stress comes, what's most important is how you respond. Will you turn to the Lord in dependence? After all, He is the source of life, and it is His strength that we need daily.