Day 5: I Will Not Be Afraid
*There are 3 activities for this day's lesson. Feel free to choose one or two of the activities OR spread them out over several days! :)
Materials

:
Bible (I like the NirV)
Children's Bible (I'm using the Say & Pray Bible)
Activity #1: Paper towel tube, Yellow/gold paint, Jewels/stickers
Activity #3: Coffee filter, Washable markers, Glass filled with water, Sharpie, Jewels/stickers
Day 5: Lesson and Activities
Open Bible to Esther 5. Ask if child wants to touch God's Word. Touch gently. Then, "read" the story. No one, not even Queen Esther, was supposed to come before King Xerxes unless they were invited. But Esther had to save her family! She trusted in the Lord, and He gave her courage to go before the king. When the king saw Queen Esther, he was pleased with her! So he reached out his golden scepter that was in his hand. Queen Esther approached and touched the tip of the scepter. (Open up Say & Pray Bible and find the king, the queen, and the scepter. Have child touch tip of cardboard scepter.)
Queen Esther was afraid. She invited the king and Haman to a feast. She was still afraid, so she invited them to another feast. At the second feast, Queen Esther was brave. She told the king about Haman's plan to destroy her family. King Xerxes was very angry with Haman. The King had Haman hanged to death on a pole. God had used Esther to rescue His people!
Activity #1:
Prep: Pinch paper towel tube at the top to form a scepter (I cut four slits about 2 inches down to make the top pinch easier).
Paint the cardboard scepter gold. When it dries, glue jewels to it and/or put stickers on it. (We left ours plain)
Activity #2:
Prep: Use paper towel tube scepter from Activity #1.
Play a form of red-light green-light. When you hold up the scepter, have your child GO. When you bring the scepter down to your side, have your child STOP. Can have your child move towards you across the room or just move around the room. Experiment with different types of movements: walking, running, dancing, skipping…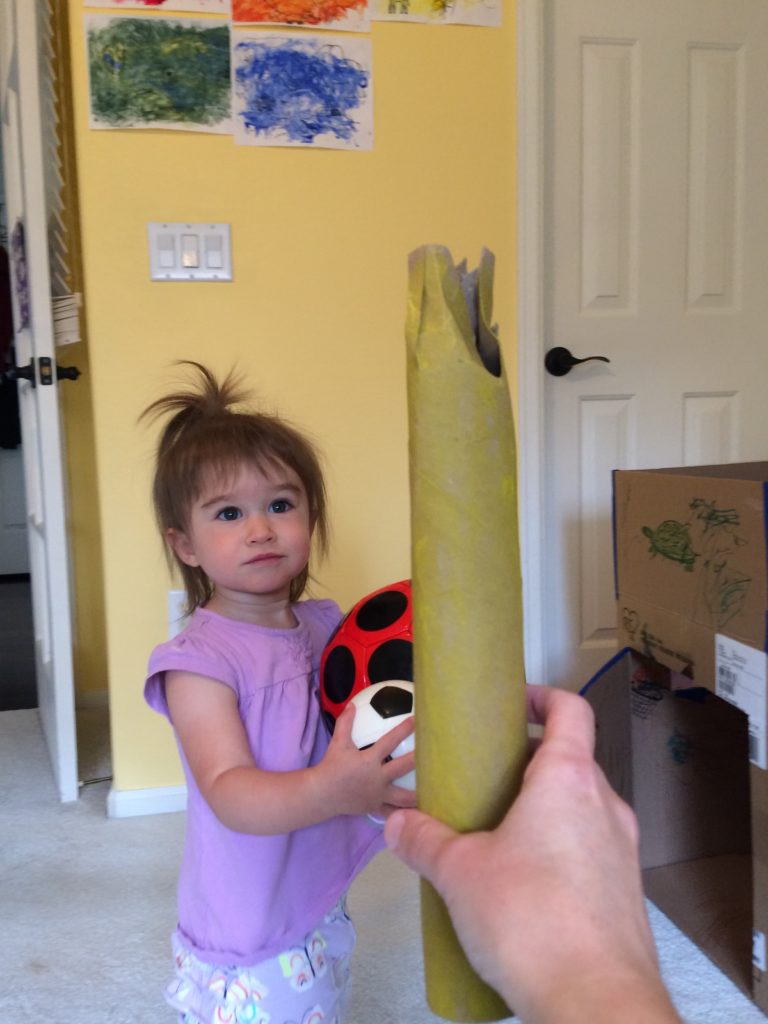 Activity #3:
Color on coffee filter with washable markers (make sure it's pretty heavy/filled in).
Fold the coffee filter in half, then in half again, and in half again etc. until it is small. Dip the pointed tip in the water slowly to see the colors blend together! Unfold and let it dry. Once dry, draw a crown with a black sharpie – because Jesus goes before God's Throne to save us from our sin with His own blood shed on the cross.
Sing (Tune: London Bridge is Falling Down) We will die because of sin, because of sin, because of sin. We will die because of sin, we need a Savior! Jesus goes before the Throne, before the Throne, before the Throne. Jesus goes before the Throne to save us from our sins!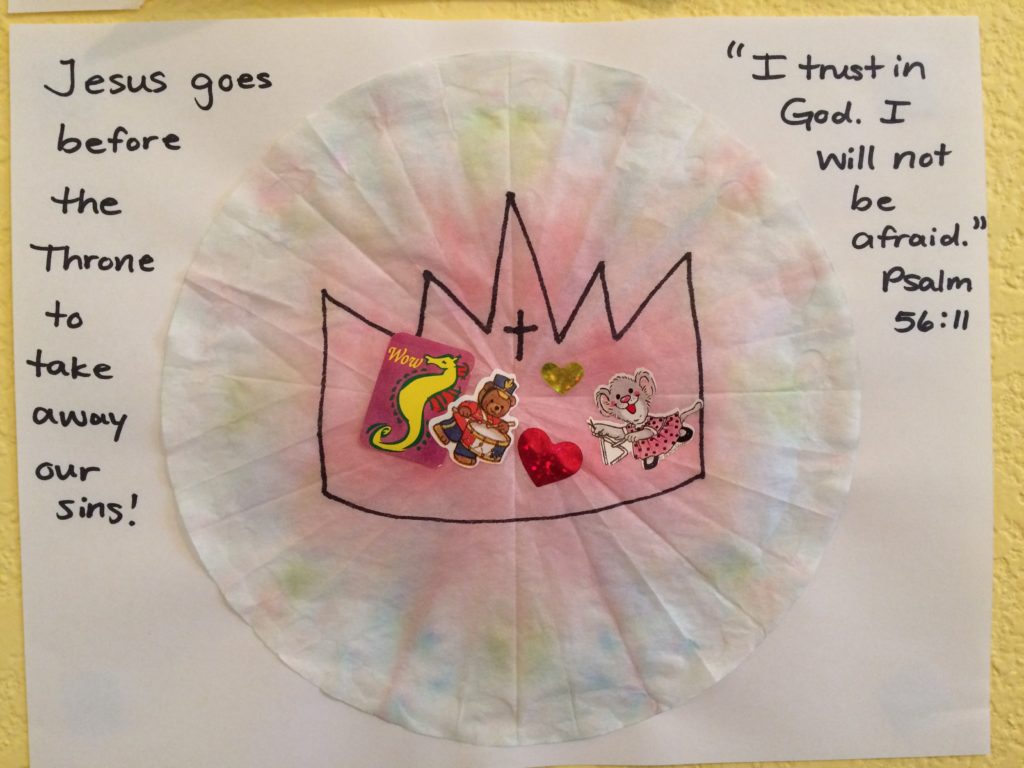 Closing: Psalm 56:11, I trust in God. I will not be afraid. Jesus helps us please God. Jesus brings us close to God!