He Cares for You
Welcome to Week 4 of my Toddler Bible Lessons! This week focuses on stories of Moses. The verse of the week is 1 Peter 5:7, He cares for you. So as we learn about Moses and the Israelites, we will see examples of God's care. Themes are: God's protection, adoption, prayer, God's rescue and deliverance, and Jesus – the Lamb of God.
Some weeks for us are very routine – we do Bible Time every day after breakfast for 5 days in a row. But this week – not so much. We had appointments – for the car, for physicals, for eye doctor – Nana and Papa visited for a day, Daddy was off work for a day. So Bible Time didn't happen every day. I tried doing it after naptime one day, and Katelyn's attention and focus was bonkers. Plus, that lesson got interrupted by a phone call. Some activities we did completely separate from a structured Bible Time, and some lessons we split between two days.
It took us a span of 2 weeks to complete the Moses lessons… And that's ok! Toddlers really don't care if their lessons and activities are all neat and tied up with a bow. Their attention spans are short, they love to explore, and they are learning no matter what the lesson looks like. Sometimes it is just messy. The point is that you are trying to fit in some sort of Bible teaching and exploration for your child. God's Word and His lessons should flow into our everyday lives anyway. :)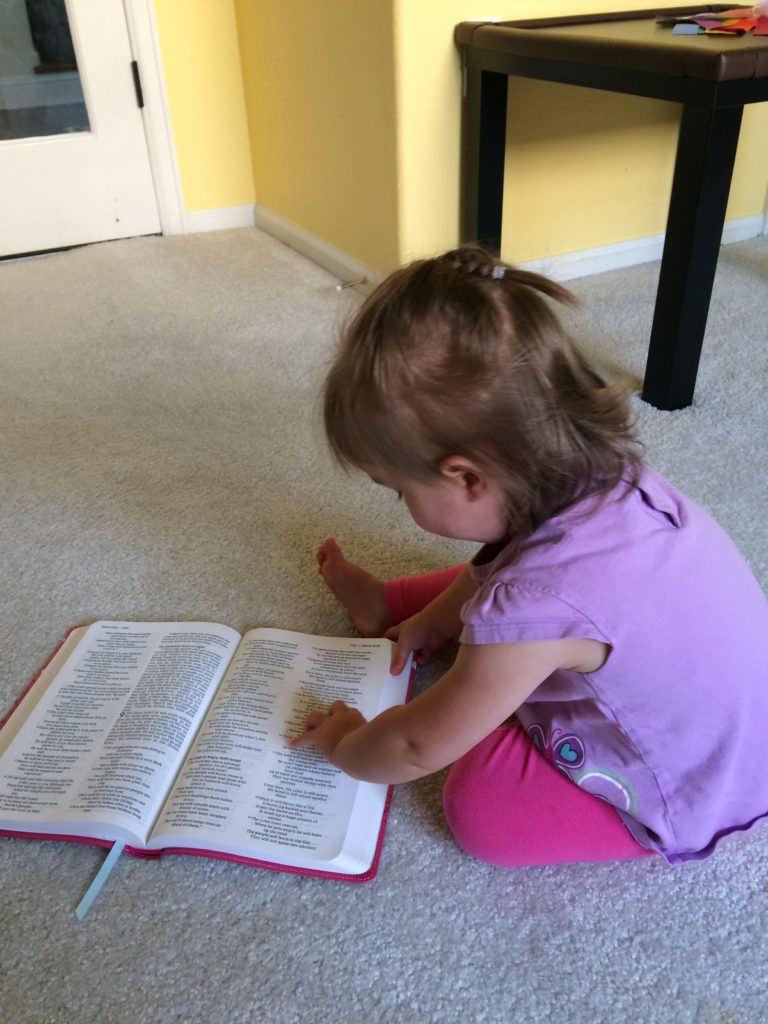 She loves turning the pages of her real Bible!
Weekly Routines – page 2
Day 1 Lesson and Activities – page 3
Day 2 Lesson and Activities – page 4
Day 3 Lesson and Activities – page 5
Day 4 Lesson and Activities – page 6
Day 5 Lesson and Activities – page 7